Exhibitors


Booth #1 and #2
WorldViz is an industry leader in interactive virtual reality solutions. The company's flagship products are VIZARD, the VR community's favored interactive 3D content creation software, and PPT X4, the most cost effective wide-area tracking system currently available. WorldViz provides high quality, low-cost immersive 3D products to researchers, educators, designers, manufacturers, and other professionals, integrating all common VR products on the market and delivering complete turnkey solutions.
 
---



Booth #1 and #2
NVIS designs and manufactures virtual reality displays that allow users to visualize and interact with simulated 3D environments. Our products incorporate wide field-of-view optics and high-resolution microdisplays into ergonomically designed displays optimized for comfort and ease-of-use.
---

Canon

Booth #15 and #16
Canon U.S.A., Inc., is a leading provider of consumer, business-to-business, and industrial digital imaging solutions. With approximately $45.6 billion in global revenue, its parent company, Canon Inc. (NYSE:CAJ), ranks third overall in U.S. patents registered in 2011 and was one of Fortune Magazine's World's Most Admired Companies in 2012. Canon U.S.A. is committed to the highest levels of customer satisfaction and loyalty, providing 100 percent U.S.-based consumer service and support for all of the products it distributes. Canon U.S.A. is dedicated to its Kyosei philosophy of social and environmental responsibility. To keep apprised of the latest news from Canon U.S.A., sign up for the Company's RSS news feed by visiting www.usa.canon.com/rss.
---


Booth #1 and #2
CyberGlove Systems is the worldwide leader in data glove technology and offers the most sophisticated hand-centric 3D motion capture solutions in the marketplace. CyberGlove Systems' products include four different data glove solutions and its VirtualHand Software Development Kit (SDK). Its products allow users to capture detailed finger, hand, and arm movement in virtual reality, allowing users to interact with digital objects in the virtual environment.
 
---

ART

Booth #11
ART is a leading manufacturer of high-end optical motion tracking systems for Virtual and Augmented Reality applications with all products being developed and manufactured at the company's headquarters near Munich, Germany. Founded in 1999, ART quickly became the leading supplier of infrared optical tracking solutions for the automotive, aerospace and other high tech manufacturing industries, as well as being the system of choice for many of the world's leading research institutes and universities. ART tracking systems are also used widely in industrial measurement and medical applications. ART offers a comprehensive range of motion tracking systems, including the only optical tracking solution made specifically for use inside closed Caves and other multi-sided projection systems. At the heart of every system is our DTrack2 control software which provides rapid and stable setup of tracking cameras and devices. The company also provides an extensive range of custom tracking targets for the most popular brands of stereo glasses as well as our Flystick and Fingertracking input devices, all designed specifically to meet the needs of navigation and interaction with VR and AR applications. All ART systems and accessories are designed for high reliability and maximum flexibility and are continuously improved in order to satisfy the individual requirements of each customer.
 
---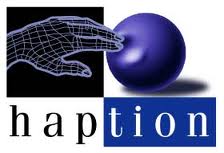 Haption

Booth #19
Haption will present large 6DOFs active Haptic Force Feedback device. Haptic device is computer device which enables its user to interact with a software application or with a virtual object through the sense of touch. We will demonstrate our strong capacity to handle VIRTUAL REALITY application like engineering, medical, robotics.
 
---

i'm in VR

Booth #18
« i'm in VR » is a software company providing immersive virtual reality tools, applications and services. Our ambition is to simplify virtual reality. « MiddleVR for Unity » is a virtual reality plugin for the popular and powerful Unity 3D engine by Unity Technologies. With MiddleVR, you can, in a few minutes, add VR capabilities to your Unity applications and use them in most immersive systems: Head-mounted displays, immersive cubes, holostages, holobenches, powerwalls, 3DTVs. Our MiddleVR handles: the management of interaction devices (3D trackers, Kinect…), stereoscopic displays, multi-computers synchronisation (cluster), high-level interactions: navigation, 3d objects manipulation, dynamic adaptation of your application from one VR system to another. Moreover, thanks to its generic SDK, MiddleVR can be adapted to many other 3D engines/applications.
 
---

NextGen Interactions
http://www.nextgeninteractions.com
r
Booth #13
 
NextGen
 Interactions focuses on creating 
next
-generation experiences that go beyond the mouse/keyboard, and brings breakthrough results in a time-efficient manner through innovative technologies that cannot be achieved through other means.  Depending on your needs, we leverage technologies such as touch screens, mobile platforms, device and body tracking, large surround displays, and head-mounted displays.  Our services include needs analysis, solution recommendations, prototyping, installation and configuration, research proposal/report writing, user studies, system design, and full product development. If you want technological growth and quality that is a generation ahead of your competition, then 
NextGen
 Interactions is the answer.  
---

Polhemus
Booth #6
Polhemus pioneered motion tracking over 40 years ago, introducing head tracking technology for the U.S. Military—something we still do today. Continuing to offer cost effective solutions has paved the way for other leading markets, including virtual reality, biomechanics, and health care. Along with their accuracy, low latency and simplicity, Polhemus motion trackers provide 6 Degree-Of-Freedom measurement, with sensors that are easily embedded and affordable. This has made Polhemus technology a top choice for use in some of the world's most sophisticated and commercially successful VR training simulators. Polhemus technology powers VRSim's SimWelder™welding simulator and Medsim's UltraSim™ ultrasound simulator just to name a few. Polhemus continues to bring new products to market—the latest being G4™—the wearable, wireless tracker designed with virtual reality, rehabilitation, human factors and biomechanics in mind. G4 is completely tether-free, yet still provides 6DOF high-fidelity motion tracking with the accuracy and ease of use Polhemus electromagnetics is known for.
 
---

Vicon

Booth #14
Vicon, the market leader in optical motion tracking, provides the most accurate and true-to-life manipulation of graphics for animation or simulation. Optical tracking eliminates the lag, inaccuracies, unpredictability and unresponsiveness of traditional magnetic or inertial technologies. Regardless of your display technology Vicon provides low latency tracking data that is able to be used in a wide variety of software applications.
 
---

zSpace
Booth #12
 
zSpace, Inc. is a leading-edge technology provider that enables natural interaction with virtual-holographic 3D imagery through its flagship product, zSpace®. Targeting markets including manufacturing, architecture, engineering, government, medical and research, zSpace aims to accelerate design and development processes and increase productivity through 3D visualization. Join the Developer Community that is leading the way in 3D innovation byvisitingwww.zspace.com/developers. zSpace, Inc. is a privately held, venture backed company located in Sunnyvale, CA, and has filed more than 30 patents for its innovative technologies. For more information, visit www.zspace.com.
-------------------------------------------