Supporters

With an enrollment of nearly 50,000 students annually, UF is home to 16 colleges and more than 150 research centers and institutes.  Florida's leading university traces its beginnings to a small seminary in 1853. It opened its doors in Gainesville in 1906 with 102 students. Today, it is one of the most comprehensive and academically diverse universities in the nation.
Since 1985, UF has been a member of the Association of American Universities, the higher-education organization comprising the top 62 public and private institutions in North America.
Educational Excellence
UF is consistently ranked among the nation's top universities: No. 17 in U.S. News & World Report "Top Public Universities" (August 2012); No. 3 in Kiplinger's "Best Values in Public Colleges" (2013) and No. 7 in the Princeton Review "Best Value Public Colleges" (2012).
Job recruiters ranked UF ninth on the list of places where corporations prefer to recruit new employees (2010) and No. 2 on SmartMoney magazine's list of universities whose graduates get the highest salary return for their tuition dollars (2012). UF also ranked 21st in the National Universities category of the 2012 Washington Monthly magazine College Rankings.
Faculty
UF has 4,215 faculty members with distinguished records in teaching, research and service, including 40 Eminent Scholar chairs and 28 faculty elections to the National Academy of Sciences, Engineering, the Institute of Medicine, or the American Academy of Arts and Sciences.

Awards include a Fields Medal, two Pulitzer Prizes, NASA's top award for research, and Smithsonian Institution's conservation award.
Students
More than 90 percent of incoming freshmen score above the national average on standardized exams.

The freshman retention rate of 96 percent is among the highest in the country
Research and Discoveries
UF is a leader in research and discoveries which improve the lives of individuals throughout the state, nation and world.
UF received more than $644 million in research awards in 2011-12.

UF ranked 10th in the number of U.S. patents issued in 2011.

UF ranked eighth in the number of start-up companies created in 2011
UF is an economic powerhouse behind Florida's economy.
UF's annual economic impact exceeds $8.76 billion.

UF activities generate an estimated 106,118 statewide jobs, including more than 41,000 university employees and those employed by supporting businesses
Sustainability Leadership
The University of Florida is committed to the responsible teachings and practices of environmental protection and social responsibility.
UF hosts a myriad of centers for environmental research, conser¬vation, planning, design, policy, and law. Additionally, UF offers more than 300 courses related to sustainability, many college-level certificates in sustainability, a major and a minor in Sustainability Studies, and a Sustainability in the Built Environment major in the College of Design, Construction and Planning.

UF is home to the Water Institute, the Florida Climate Institute, the Florida Institute of Sustainable Energy (FISE), and the Energy Technology Incubator. FISE enjoys the interdisciplinary efforts of more than 150 faculty in developing new technologies — from fuel cells, batteries, and solar cells to biofuels and nuclear power — in order to create a sustainable energy future for Florida and the world. In the last few years alone, UF's Federal and State funded energy research exceeded $70 million
Service Mission and Cultural Impact
As a land-, sea- and space-grant institution, UF is dedicated to serving the interests of society.
UF's world-class cultural and artistic venues, including the Florida Museum of Natural History, Harn Museum of Art, and Phillips Center for the Performing Arts, attract individuals from throughout the state and beyond.

The Shands family of hospitals family includes two major teaching hospitals, Shands at UF in Gainesville and Shands Jacksonville; two specialty hospitals, Shands Rehab Hospital and Shands Vista behavioral health; a network of outpatient rehabilitations centers; and two home-health agencies. Shands at UF includes Shands Hospital for Children and Shands Cancer Hospital.
Athletics
UF's athletic programs possess a rich tradition of excellence at the conference, national and international levels.
UF's athletic victories include 29 national team championships, three of which came in 2011-12 from Men's Indoor and Outdoor Track & Field and Women's Tennis. The Gators boast 205 Southeastern Conference (SEC) titles – the most in the league – and more than 249 individual national titles. In 2006, UF became the first university in collegiate history to earn both the national men's basketball and football titles in the same year. The university again made history in April 2007 by winning consecutive national titles in men's basketball. UF is the only SEC school to place 100 or more student-athletes on the Academic Honor Roll each of the last 15 years.

Since 1968, a total of 163 Gator student athletes and 14 Florida coaches have represented 37 countries in 13 Olympiads and laid claim to 109 medals, including 50 gold. Thirty-five Gator athletes and three UF coaches represented 17 countries in London last summer, as UF surpassed the 100-medal mark with 18 medals in 2012.
Alumni
More than 367,000 alumni are located throughout the world. University of Florida graduates can be found in all 50 states and more than 135 countries, truly demonstrating that the Gator Nation is everywhere.
Notable alumni include John Atanasoff (inventor of the digital computer), Robert Cade (inventor of Gatorade), Michael Connelly (best-selling mystery novelist), actress Faye Dunaway, actor Buddy Ebsen, comedian Darrell Hammond, Carl Hiaasen (columnist and novelist), Bob Graham (former U.S. senator and Florida governor), Eleanor Smeal (former president of National Organization for Women), Olympic medalists Dara Torres and Ryan Lochte, ecologist Archie Carr, Jonathan Demme (Academy Award-winning director), Joe Scarborough (former congressman and MSNBC morning show host) and Jamie Macintyre, Forrest Sawyer and Sara Sidner (national broadcast journalists). UF alumni include at least nine former Florida governors, two Nobel Prize laureates, eight NASA astronauts, eight former U.S. ambassadors, and dozens of professional and amateur athletes.
---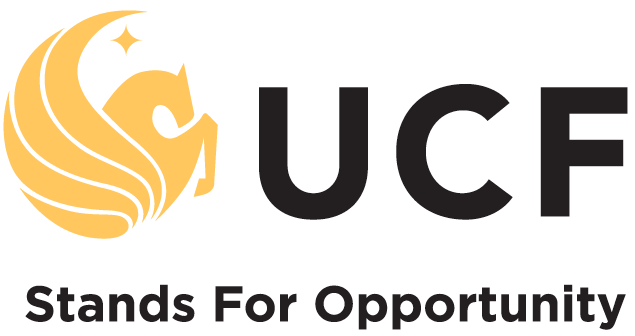 University of Central Florida
UCF is the leading the U.S. State University System in Awarding Baccalaureate Degrees. More than any other State University System institution, UCF has expanded rapidly to provide access to higher education to Florida students. UCF currently produces 12 percent of all baccalaureate degrees awarded in the state. UCF's enrollment of about 60,000 students is the second largest in the nation after Arizona State University. UCF's enrollment has more than doubled over the past 15 years. UCF awarded 11,691 bachelor's degrees in 2011–2012, a 137-percent increase compared with 1995–1996.
A Proven Job Creator
By vigorously pursuing partnerships and aligning its resources with Central Florida's needs, UCF has fueled the region's innovation economy and created thousands of high-wage jobs. UCF's innovations and programs help Central Florida add high-wage jobs by fostering start-up companies and the growth of existing businesses. For example, since its founding in 1999, the Business Incubation Program has generated more than 1,600 jobs with an average salary of $59,000. With UCF as a founding partner, the Florida High Tech Corridor Council has created an estimated 4,000 jobs, served more than 350 companies and provided hands-on experience for 2,200 graduate and post-doctoral students. GrowFL, administered by UCF's Florida Economic Gardening Institute, has helped more than 400 Florida companies create more than 3,200 direct and indirect jobs since 2009. By the end of 2017, the College of Medicine and our Medical City partners are projected to create 30,000 jobs and more than $7.6 billion in annual economic impact. UCF's internationally recognized Institute for Simulation & Training is an anchor of the region's $3 billion modeling and simulation industry. The Center for Research and Education in Optics and Lasers (CREOL) has worked with 170 companies to develop new optics and laser technologies, helping them expand their profitability, and factored in the creation of 23 start-up businesses.
UCF is one of Central Florida's largest employers, with approximately 2,000 faculty members and 8,750 staff members. The university impacts more than 112,000 additional jobs and adds $7.73 billion of value to the economy, a 2009–2010 study found. UCF researchers have earned more than $1 billion in external grants during the past decade, and their work has created an additional 3,800 jobs annually.
Growth with Quality, Diversity and Access to Opportunities
UCF continues to grow in size, quality, diversity and reputation. The fall 2012 freshman class boasts a preliminary average high school GPA of 3.9. The class' average SAT score of 1244 is a 77-point increase from 10 years ago. A university-record 241 National Merit Scholars are enrolled in fall 2012, double the number enrolled five years ago. UCF's enrollment is more diverse than ever, as nearly 4 in 10 students in fall 2012 are minorities. U.S. News & World Report again ranked UCF a top 5 "Up-and-Coming" national university, which recognizes schools that recently made promising, innovative changes. With an enrollment of about 60,000 in fall 2012, UCF is the second largest university in the country. UCF offers 59 fully online degrees, degree-completion and certificate programs. The Sloan Consortium, a higher-education association that promotes online learning, recognized UCF in 2012 with its top institution-wide award for creating and delivering high-quality courses online.
Preparing Students for the Workforce
Particularly in Science, Technology, Engineering, and Math (STEM) disciplines, UCF prepares students for high-paying jobs by focusing on vital and emerging economic sectors, strong partnerships with industry leaders and special programs dedicated to student learning. UCF awarded 14,369 degrees in 2011–12. The number of STEM degrees is increasing substantially—1,332 were awarded in engineering and computer science, a 68 percent increase since 2001–2002. More than 110 companies have hired the Florida Interactive Entertainment Academy's (FIEA) nearly 250 graduates at an average salary of $50,774. More than 4,400 Rosen College of Hospitality Management graduates (95 percent) have found jobs in the hospitality industry, and most work in Central Florida. Addressing a shortage of math and science teachers, a College of Education-Lockheed Martin partnership has graduated 500 students with master's degrees. Many of them are industry professionals transitioning into Central Florida classrooms.
UCF's Commitment to Sustainability
UCF saves students, taxpayers and consumers millions of dollars a year by aggressively reducing the impact of the campus and the community on the environment. Increased energy efficiency has produced more than $3.8 million in savings for the university during the past three years
---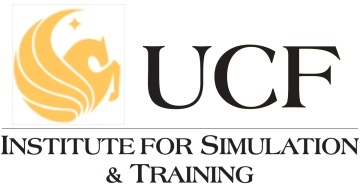 University of Central Florida
Institute for Simulation & Training
The Institute for Simulation & Training at the University of Central Florida is an internationally recognized research institute that focuses on advancing human-centered modeling and simulation technology, and increasing our understanding of simulation's role in training and education. The institute in 2012 celebrated 30 years of modeling and simulation research achievement.  Founded in 1982 as a research unit of UCF, and reporting directly to the Vice  President for Research and Commercialization, the institute provides a wide range of research and information services for the modeling, simulation and training community. Faculty and staff are distributed among IST's three Central Florida Research Park buildings: Partnership II, Partnership III, and the Simulation and Training Technology Center.
---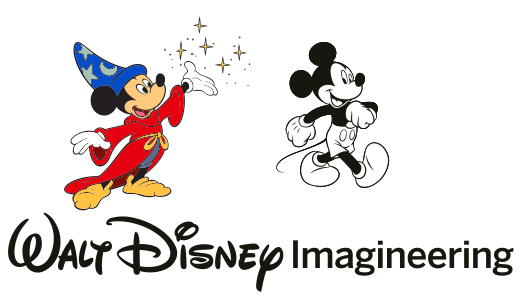 Walt Disney Imagineering

Walt Disney Imagineering is the unique, creative force behind Walt Disney Parks and Resorts that imagines, designs and builds all Disney theme parks, resorts, attractions, cruise ships, real estate developments, and regional entertainment venues worldwide.  Imagineering's unique strength comes from the dynamic global team of creative and technical professionals building on the Disney legacy of storytelling to pioneer new forms of entertainment through technical innovation and creativity.  
---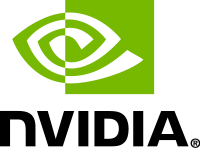 Nvidia


NVIDIA awakened the world to computer graphics when it invented the GPU in 1999. From our roots in visual computing, we've expanded into super, mobile and cloud computing. NVIDIA's mobile processors are used in smartphones, tablets and auto infotainment systems. PC gamers rely on GPUs to enjoy spectacularly immersive worlds. Professionals use them to create visual effects in movies and design everything from golf clubs to jumbo jets. And researchers utilize GPUs to advance the frontiers of science with high-performance computers.
---

Turning Technologies

Turning Technologies develops leading assessment delivery and data collection solutions for learning environments. Our response technology not only creates interactive presentations, but is proven to enhance effective instruction, increase retention, engage participants, and immediately assess understanding. Turning has expanded its portfolio of products to include data collection systems that securely transfer digital data for various assessment, testing and certification programs.  Founded in 2002, the company began with the development of response technology that was affordable, user-friendly and better documented so that users could easily grasp its benefits. Today, an estimated six million ResponseCard keypads have been delivered to K-12 schools, universities and businesses worldwide. Explore how response systems are working for K-12, Higher Education and Corporate/Government customers.
---

Oxford University Press
www.oup.com



Oxford University Press is pleased to publish Interacting with Computers on behalf of BCS, The Chartered Institute for IT and Interaction, a specialist group from BCS. Read the latest content from this journal atwww.iwc.oxfordjournals.org and look at our related books at http://www.oxfordjournals.org/page/5024/1andwww.oup.com/us/
---
​Presence
www.mitpressjournals.org/presence


The first academic journal for serious investigators of teleoperators and virtual environments, Presence is filled with stimulating material applicable to these advanced electromechanical and computer devices. Incorporating perspectives from physics to philosophy, Presence appeals to a wide audience - particularly mechanical and electrical engineers concerned with teleoperators; those interested in virtual environments, including computer scientists, high-tech artists, and media people; and psychologists involved in the study of human-machine interfaces and sensorimotor/cognitive behavior. The journal is published quarterly by the MIT Press.